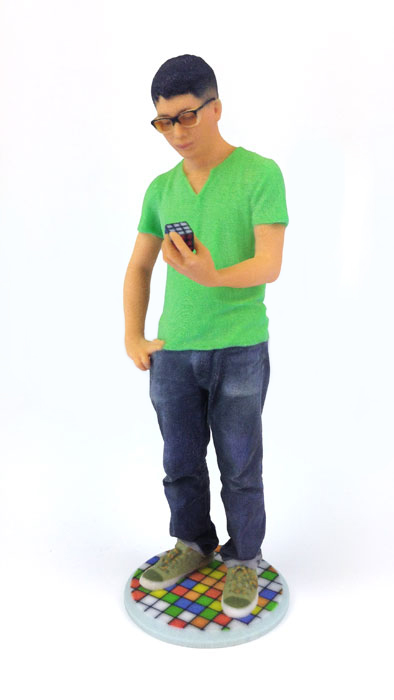 3D Scanning
We will scan you with depth sensor 3D scanner.
Editing
Scanned data will be edited in computer software.
3D printing
We will print it with high resolution full colour 3D printer.
| | |
| --- | --- |
| Basic price (approx 15cm, included glasses and base) | S$600 |
Additional cost
| | |
| --- | --- |
| Bag, cap or big accessories (less than 50cm heigh and width) | S$50 each |
| Wedding dress or fancy & intricate costume (cos-play) | S$250 each |
| Subsequently order of same model | S$450 |
Size: Approx 15 cm
Process:
Step 1: We will scan you with a depth sensor 3D scanner. It will take approximately 30 minutes on the scanning process.
Step 2: Editing 3D scanned file in 3D modeling software.
Step 3: Print it with high resolution full colour 3D printer, and some post process to complete a beautiful 3D Selfie.
If you have other questions
1. Are there any health concern over 3D scanning?
Depth sensor 3D scanner using IR to define the depth of the object being scanned, and capture the data in 3 dimension.
It is a non-contact process and completely painless and harmless.
2. Can I get my 3D Selfie straight away after scanning?
Unfortunately no, the process will take 5 to 7 working days due to the editing and printing process.
3. What are the 3D Selfie made of?
They are full colour sandstone 3D printing. It's some kind of high performance composite powder.
4. Can I give it for kids as a toy?
The 3D Selfie is printed from a 3D printer and applied a special coating to strengthen it, however it still as brittle as plaster of paris.
It may break when you drop it, we do not suggest to give your kids as toy.