We are having an exhibition of Fabric and Fiber (paper) at end of this year and would like to invite designers to participate on the paper toy skin design.
This is a collaboration project we work with a designer from Taiwan who created the Love Bear. The Boxy Bat and the Love Bear will be exhibited at the Fab-fibe Show 2009.
Why Fab-fibe Show?
An exhibition on the multi-possibilities of fabric and paper.
Fab is a short form of fabric but also a slang for fabulous. Fibe is short form of fiber for paper, but it sounds like vibe. So in a round-about way it's like Fabulous Vibes.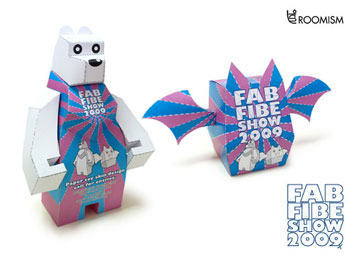 Date: 18 – 20 December 2009
Venue: Sculpture Square (view map)
For more information please email to: nana.roomism@gmail.com
If you are interested to participate the collaboration project please fill in the form below. Roosmim need some information from you. Thank you!
TOYING WITH TOYS
Shooting is child's play! Simply snap with any toy camera at the Fab Fibe Show '09 and you could win some really fun cameras!
Competition details can be found at http://www.facebook.com/8storeytree
1st Prize: Coffee Jar Camera
2nd Prize: Milk Carton Camera
3rd Prize: Book Camera
Details:
Register by emailing us your name, age and contact no. to smile@thirtysix.com.sg
Registered participants are entitled to 10% off selected film cameras, flashes and processing of films at thirtysix, 91 Bencoolen Street, Sunshine Plaza, #01-32
All point and shoot 'TOY' film cameras are allowed. (eg. Holga, Goldenhalf etc.)
Participants can shoot on any day of exhibition.
Each participant is limited to a maximum of 5 photo submissions.
Please email your photo submissions to smile@thirtysix.com.sg, including your name, contact no. and camera used.
Photos must be at least 1800x1200px in jpeg format.
Deadline for submission is 27th Dec 2009.
Winners will be notified by email to collect their prizes at thirtysix, 91 Bencoolen Street, Sunshine Plaza, #01-32
Email smile@thirtysix.com.sg for enquiries.
Sponsors:
Supported by: