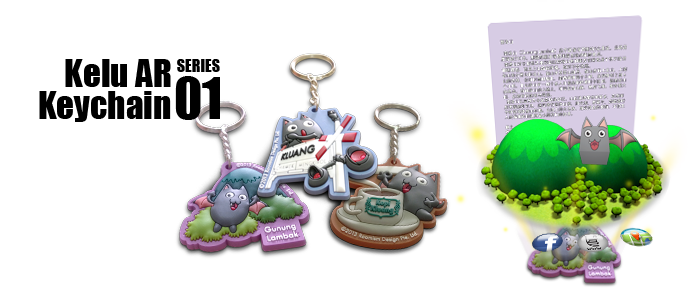 Keep a piece of Kelu, keep a piece of Kluang
Kluang is a wonderful town where we spent our childhood life, youngster going out station for better work or further study where getting more tourist heading to Kluang for different experience. Something keep trouble me in my mind, what should be given to our friends as a gift who never been to Kluang at the same time can help introduce Kluang to them? What will be the unique souvenir that tourist can bring home to remember Kluang? Something beside food that you can keep it long and remind you of the this wonderful place every time you see it?
This is the reason we start creating this product.
Kelu is the character we created base on the story of our home town, this time we make them introduce something good of our home town Kluang.
There are 3 designs on this very frist series, introducing the Kluang coffee, Gunung Lambak and the famous Kluang Train Station. Kelu AR keychain is also another Roomism products equipped with AR content.
There is a location button in the Augmented Reality contents which we think will be quite useful, as it could locate the place that the keychain introduce, and it routes you there.
You can purchase it in our store

AR content available in this product. You can scan the QR code with Junaio to start. If you can't view the video please view the general instruction Way 01:
General AR Instruction
If you don't have the app in your mobile device, you can download it for free, it is available for iOS and Android devices, scan this QR code it'll lead you to the App Store or Google Play.
We've used some good articles found online which can perfectly introduce the keychain related places or objects.
We have fun and learn a lot by researching the history and story of Kluang, we would like to invite you to read the full article where we extract from: